Holzcluster
The stone pine network
proHolz Tirol / Holzcluster has already been coordinating activities related to the marketing and image-building of stone pine for a number of years.
These activities were preceded by scientific studies for stone pine at Human Research (Weiz, Austria) and the University of Salzburg, which generated excellent results. In addition to its positive aspects with respect to people's well-being and the verifiable positive health effects, it was also found that the wood of the stone pine significantly reduces the growth of moth larvae and bacteria.
The internet platform www.zirbe.info provides information about the ecology of the type, distribution, wood properties as well as the companies that process or finish stone pine, which can be contacted directly.
The brochure "Stone Pine - pinus cembra" represents another important marketing instrument that is distributed at various events and also sent to interested companies and end customers upon request.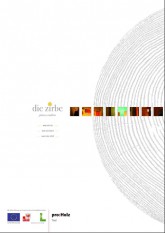 To order our brochure please return this Downloadformular.
Brochure available only in German.